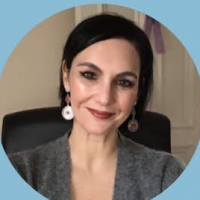 Sabina Gabrielli Carrara
Crime Fiction, Thrillers, Suspense, Mysteries
Profession

stay at home mum, author, blogger
Author of murder mysteries with a psychological twist, after a degree in History and Philosophy and some experience in Human resources, Sabina moved to Ireland in 2003. She worked a few years in the financial services before she decided to go back to her old passion: writing.
She started a blog and then decided to write her first novel in English.
She is currently living in the little village of Balrothery with her husband, their two daughters, two dogs and some foster who comes and goes.
Sabina Gabrielli Carrara Books
Literature is the immortality of speech.
August Wilhelm Von Schlegel